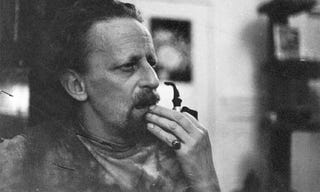 Who is Theodore Sturgeon?
One of the godfathers of contemporary science fiction and dark fantasy, Theodore Sturgeon is best known for his contributions to Golden Age science fiction during the 1940s and 1950s.
His award-winning novels include More Than Human, Some of Your Blood, and To Marry Medusa.

Many of his novels explore ideas of gender, sexuality, love, and social commentary.
A writer of essays, television shows, and criticism
The writer of several episodes of Star Trek; he is also credited with having created the iconic Vulcan saying "Live long and prosper," as well as the accompanying hand gesture.
The creator of Sturgeon's law, which states that ninety percent of everything is crap, including literature (and science fiction), consumer goods, and film.
What is the Theodore Sturgeon Memorial Award?
The award was established in 1987, two years after the iconic author's death, by Sturgeon's heirs and the Center for the Study of Science Fiction.
The annual award honors exceptional short science fiction writing.
This year's awards will be announced June 14, 2013.
Who are some of the famous winners?
Ursula K. Le Guin, Forgiveness Day (1995)
Ian McDonald, Tendeléo's Story (2001)
James K. Morrow, Shambling Towards Hiroshima (2010)
Michael Swanwick, The Edge of the World (1990)
Who were some of the biggest snubs?
Ian R. MacLeod comes in second for the biggest Sturgeon snub, with six nominated stories and no wins, after James Patrick Kelly's whopping seven nominations. Best known for his alternative histories, MacLeod's novels and short fiction reimagine key historical events, seamlessly blending history and fantasy while offering a social or political critique. His novel The Summer Isles reimagines the world when the Allies were defeated in WWII, and his short story "The Chop Girl" was inspired by the Dresden fire-bombings, and is now part of the story collection, Snoodgrass and Other Illusions.
Octavia E. Butler is praised for her thought-provoking science fiction and fantasy that fearlessly question ideas of race, gender, and sexuality. One of the first female African-American science fiction authors, Butler's story "The Evening and the Morning and the Night" was nominated for the 1988 Sturgeon Award, but failed to win. The story, now included in Butler's collection Bloodchild, is about a society ravaged by the fictional Duryea-Gode disease, a side effect of consuming a cancer-preventing drug. Victims of the disease descend into madness and self-mutilation until their death.
John Barnes is the author of more than thirty novels and numerous short stories. "Things Undone," nominated for the 2010 Sturgeon Award, is a captivating story that asks its readers, What if we lived in a world in which the past could change as easily as a Wikipedia page? When names change and history is transient, Barnes explores how easily "reality" can be remade through simple changes. Barnes also teamed up with astronaut Buzz Aldrin in 1996 to write Encounter with Tiber, a mind-blowing exploration of space and life beyond Earth.
Elizabeth Hand was nominated in 2011 for her story "The Maiden Flight of McCauley's Bellerophon." Hand's novella Last Summer at Mars Hill is equally powerful, weaving a tale of magic, nature, and dark secrets. Her fiction often includes Gothic elements, ancient rites, nature, and spiritual growth.
Learn more about the great Theodore Sturgeon here. To check out this year's Theodore Sturgeon Memorial Award finalists, go here, and be sure to check out Octavia E. Butler, John Barnes, and Ian R. MacLeod on their author pages.